PhytoGaia Debuts New and Clean Palm Phytonutrients at SupplySide West 2022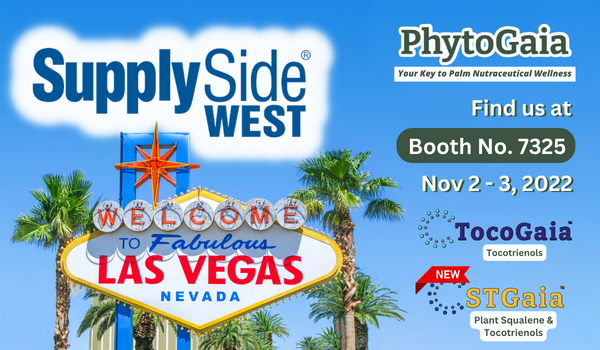 Oct 12th, 2022 – New York, USA. PhytoGaia is pleased to debut its clean and branded ingredients – TocoGaiaTM (Tocotrienols) and STGaiaTM (Squalene & Tocotrienols) at the SupplySide West 2022 Trade Show in Las Vegas. SupplySide West Expo is the largest trade show for professionals in the dietary supplement, beverage, functional food, personal care and sports nutrition industries.
STGaiaTM is a new and novel synergistic combo of natural squalene and tocotrienol complex (the first of its kind in the market) specifically developed for oral and topical skin beauty (skin nutrition and anti-aging). Squalene derived from shark liver is widely used in topical cosmetic products for its many skin beneficial effects. Tocotrienols, on the other hand and often touted as the 'super vitamin E', has a significant body of science/evidence for skin nutrition and anti-aging properties. While squalene and tocotrienols are used widely and individually in the topical and oral cosmetics products, they are not in a natural synergistic combination yet. As such, STGaiaTM is the first natural plant-based extract with these two synergistic phytonutrients together as a complex.
Both TocoGaiaTM (Tocotrienols) and STGaiaTM (Squalene & Tocotrienols) are extracted from sustainably-sourced palm fruits through physical processes without the use of any harmful solvents and chemicals as well as without any methyl ester residue (non-biodiesel route). These branded ingredients are free from carcinogenic contaminants such as Dioxins, Polycyclic Aromatic Hydrocarbons (PAHs) and Benzo[a]Pyrene (BaP) – meeting the stringent European Legislations – Commission Regulation (EU) 2015/1933.
TocoGaiaTM and STGaiaTM are available in various forms such as oil suspension, water dispersible powder, self-emulsifying liquid suspension – to cater various applications. And for the first time, PhytoGaia will launch its free-flowing beadlets and mini-tablets of TocoGaiaTM and STGaiaTM. All of these products will be featured at PhytoGaia's Booth No: 7325 on Nov 2nd and 3rd.
"We are excited to showcase TocoGaiaTM and STGaiaTM, with a wide range of delivery systems at SSW. We are here to provide innovative and creative solutions for brand owners. The unique quality attributes and new forms of our STGaiaTM and TocoGaiaTM will definitely help brand owners add values to their new projects or upgrade their current formulas", said Mr. Bryan See, Vice President of PhytoGaia.
"Currently, there are several ongoing human clinical trials on TocoGaiaTM and STGaiaTM for wound healing, immunomodulatory protection, skin nutrition, nutrigenomics and sport endurance. We will be delighted to share the progress and findings with the audience at SSW 2022 on Nov 2nd & 3rd", added Dr. Ariati Aris, Scientific Affairs Specialist at PhytoGaia.
To learn more about PhytoGaia products, please visit the sales team at SSW 2022; Booth No : 7325 or visit us at www.PhytoGaia.com and follow the latest updates on the official Youtube channel, Facebook and Linkedin.