PhytoGaia's Inaugural Success at SSW 2022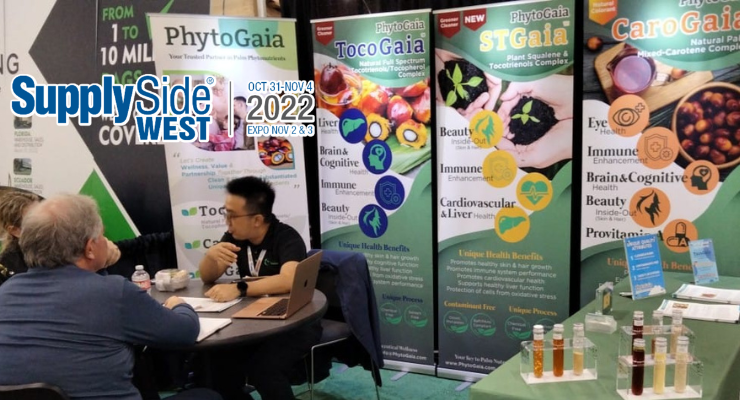 Nov 4th, 2022 – New York, USA. The 2022's Supplyside West Expo at the Mandalay Bay Convention Center in Las Vegas has just completed on Nov 3rd, 2022. This 2-Day expo was the best avenue to showcase PhytoGaia's new and novel dietary supplement ingredients, namely STGaiaTM and TocoGaiaTM. It also marked the return to normalcy where we saw increased in the number of attendees, which is great for the industry.
The quality of attendees was great with brand owners and such as Amway/Nutrilite and Bausch & Lomb coming over to PhytoGaia's booth for discussion and to find out our new offering – STGaiaTM. STGaiaTM is a novel and natural synergistic complex of plant squalene and tocotrienols, naturally extracted from sustainably-sourced palm fruits. It is specifically developed for oral and topical beauty via its potent moisturizing effect (prevents trans-epidermal water loss) and super antioxidant property to support healthy skin and hair growth.
These brand owners and companies are keen and excited especially when knowing that this is a plant-derived squalene with tocotrienols with new human clinical trial on STGaiaTM for skin nutrition and healthy hair, which is a growing segment in industry.
"STGaiaTM is naturally-extracted from palm fruits, without the use of solvents and chemicals in its extraction process. Hence, allowing companies to leverage on clean labeling angle and meeting the strict EU Regulation on BaP/PAH", Mr. Bryan See, Vice President of PhytoGaia.
"We are excited by the positive feedbacks from brand owners and companies at Supplyside West 2022. We are grateful for their support and look forward to working with each of them to bring this novel science-driven and branded ingredient to market very soon, here in the US and other parts of the world such as Europe, Korea, Japan, Taiwan, Australia etc", added Mr. Bryan See, Vice President of PhytoGaia.